Automotive
Trending
ROLLS-ROYCE Unveils Amethyst Droptail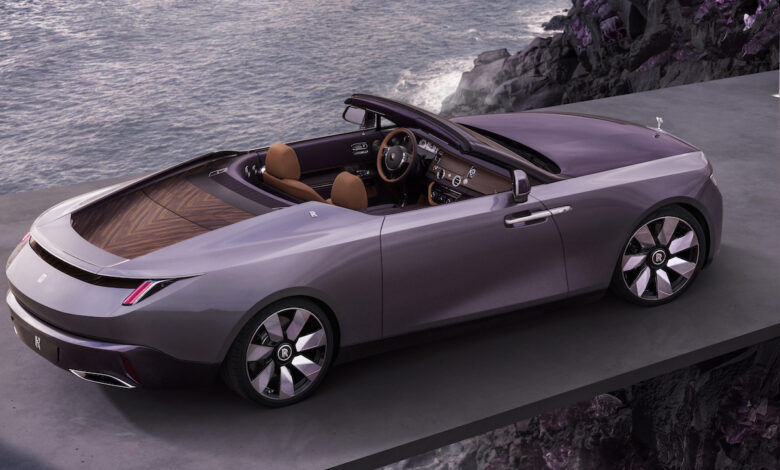 AN EXPRESSION OF PURITY, CLARITY AND RESILIENCE
Rolls-Royce Motor Cars is honored to present Rolls-Royce Amethyst Droptail – a breath-taking coach-built masterpiece that celebrates its commissioning client's cultural heritage, family legacy, and personal passions.
One of four unique expressions of the Rolls-Royce Droptail, Amethyst Droptail is inspired by the amethyst gem – the birthstone of the patron's son and an enduring symbol of purity, clarity, and resilience. A truly elevated expression of applied art, commissioned by a patron whose family business has grown from a gemstone boutique to a multinational corporation with diversified interests, this exceptional motor car is defined by the client's passion for quiet artistry and subtle flourishes.
The patron and co-creator of Rolls-Royce Amethyst Droptail expressed a profound desire to celebrate the cultural heritage of their home region. Rolls-Royce Coachbuild designers responded with an inspiration point that would define this Droptail's exterior treatment: the Globe Amaranth wildflower, which blooms in the desert near one of the client's homes.
The duotone exterior paint finish captures multiple stages of the flower's bloom. The main body colour, named Globe Amaranth, is a soft purple hue with a delicate silver undertone and a captivating iridescent finish. This is beautifully contrasted by a deep purple Amethyst paint, which is used on the motor car's upper coachwork.
Additionally, in sunlight, the motor car also reveals a gentle hint of mauve paint on the inside of the 22-inch wheels, providing a subtle but elegant contrast to the mirror-polished aluminium surface; a touch that the client compared to the colourful lining of their favourite bespoke jacket.
Beneath the extraordinary expression of contemporary craftsmanship is an intricate lower front air intake. This highly detailed piece was digitally designed and 'printed' in a lightweight composite and incorporates 202 hand-polished stainless-steel ingots, each of which has been painstakingly painted by hand in the Globe Amaranth hue.
The front end is resolved with a Spirit of Ecstasy figurine surrounded by amethyst cabochons. The cabochon treatment, whereby a gemstone is shaped and polished into a rounded form rather than faceted, was requested by the client in order to avoid a conspicuous sparkle. This subtle detail recalls the client's early enterprise in the precious gemstone business.
A removable hard top has been designed to give Rolls-Royce Droptail two distinct characters: without its roof, Droptail is a lithe, open-top roadster; with the roof installed, it is a formidable and dramatic coupé. The roof incorporates electrochromic glass that allows the surface to change colour and transparency instantly. The client challenged Coachbuild designers to develop a glass that would alter its hue in order to correspond with the colourway of Amethyst Droptail. In response, the Rolls-Royce Coachbuild Collective developed a unique chameleon effect for its electrochromic glass: when deactivated, it is completely opaque and has a subtle purple tint, mirroring the motor car's Amethyst exterior finish.
Rolls-Royce Amethyst Droptail fascia is graced with a unique timepiece commissioned by the client from the renowned Swiss haute horlogerie maison, Vacheron Constantin. Handmade in Geneva, the piece, named 'Les Cabinotiers Armillary Tourbillon,' has an intricate hand-wound movement and is securely housed in a specially designed holder, enabling it to be removed and stored separately from the motor car if desired. The timepiece features a bi-retrograde display with instantaneous return of the hours and minutes as well as a bi-axial tourbillon.
AMETHYST DROPTAIL: A PERSONAL PLACE IN ROLLS-ROYCE HISTORY
This extraordinary expression of Rolls-Royce Droptail is a testament to the commissioning client's passion for quiet detail, playfully but meticulously incorporated into one of the most historically significant Rolls-Royces ever built. It also represents the marque's capabilities, not just in realising such a clear vision, but in artfully harmonising heritage, modernity and soul.