Arts & Entertainment
Trending
Sophiya Khwaja's "Nooks of Power" Exhibition Opens Tashkeel's Summer 2023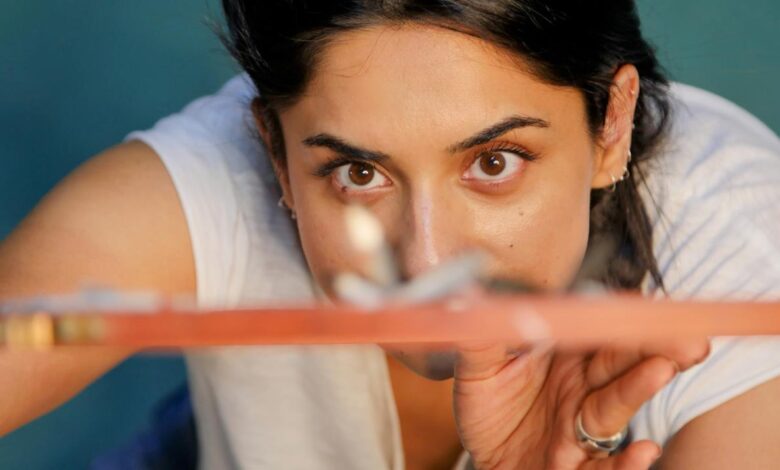 Sophiya Khwaja's is the 16th alumna of Tashkeel's prestigious Critical Practice Programme
Visual artist Sophiya Khwaja's works do more than catch the eye with surreal imagery. Her solo debut exhibition in the UAE, 'Nooks of Power" attracts viewers into a conversation on the ways and methods in which humans acquire, hoard and unleash authoritative power.
Presented in a five-part series, the UAE-based, Pakistan-born artist explores different manifestations of power – Ambition, Beauty, Labour, Language, Aspiration – using a range of mediums from pastels to digital prints, utilising acrylics, thread, collage, tea-wash and gouache. The works are the result of her time spent on Tashkeel's Critical Practice Programme while under the mentorship of artist, curator and contemporary art historian Salima Hashmi, and Dawn Ross, Head of Collections at Art Jameel.
Speaking on her experience, Sophiya Khawja shared, "Tashkeel's Critical Practice Programme provided me with the two most vital elements I needed to rediscover my love of making art – the time and space from creativity and inspiration to evolve, and the mentorship of two highly-respected thought leaders in Salima and Dawn. The resulting works encourage debate about how power is sought and manipulated by those who achieve it.
A collectable artist, Sophiya Khwaja's work can be found in galleries at the Rhode Island School of Design Museum and Yale University Museum (USA), UNESCO, and United States Educational Foundation (Pakistan). All works presented in 'Nooks of Power' are available for purchase, ranging from AED5,500 upwards.
With the exhibition running from Tuesday, 9 May 2023 to Monday, 13 June 2023, Sophiya will lead several sessions open to the public where visitors may engage with the work, including tours, an artist talk and a charcoal drawing workshop. Designed to be intimate and interactive, participants can speak to Sophiya about her practice as well as find inspiration to create their own pieces.
Visitors are encouraged to register online for the following activities:
Artist-led Exhibition Guided Tour I: Sunday 14 May, 11am–12pm, 12–1pm
Open to the Public. Registration encouraged.
Join Sophiya Khwaja on a tour of her first solo show in the UAE. 'Nooks of Power' explores five different types of individual power. Thematically connected yet dramatically different in size, subject and medium, this new body of work consists of five distinct series exploring ambition, beauty, perseverance and language.
In Conversation: Sophiya Khwaja: Wednesday 17 May, 6.30–7.30pm
Open to the Public.
Artist Sophiya Khwaja embarked on the Tashkeel Critical Practice Programme to reclaim the joy in artmaking that she had lost over the last decade. She joins Jolaine Frizzel to discuss how her practice has changed and the journey behind the new body of work presented in her first solo show in the UAE.
Artist-led Exhibition Guided Tour II: Sunday 21 May, 11am–12pm, 12–1pm
Open to the Public.
Workshop: The Charcoal Universe: Sunday 21 May, 3–5pm
Open to the Public. Registration required (limited capacity) – Messy, unpredictable yet incredibly adaptable, charcoal is a highly flexible drawing tool. Join artist Sophiya Khwaja in an intensive session highlighting the different values and line variations that can be achieved with a little experimentation.
Sophiya Khwaja is the 16th practitioner to complete Tashkeel's Critical Practice Programme (CPP) and has been living in the UAE since 2012. She holds a BFA with a major in printmaking from the National College of Arts, Lahore, Pakistan, and is an MFA graduate of Rhode Island School of Design, also with a specialization in printmaking.
Tashkeel's Critical Practice Programme was established in 2014 and offers sustained studio support up to a year for art practitioners who are living and working in the UAE. Each year a cohort is selected, and each member is assigned to two mentors who guide them on a unique programme, tailored to their area of practice and research. Alumni include Afra Bin Dhaher, Vikram Divecha, Hadeyeh Badri, Raja'a Khalid, Lantian Xie, Debjani Bhardwaj, Jalal BinThaneya, Silvia Hernando Álvarez, Chafa Ghaddar, Mays Albaik, Hamdan Buti Al Shamsi, Hind Mezaina, Nora Zeid, Shamma Al Amri and Shazia Salam.
Celebrating its 15th year in operation, Tashkeel welcomes visitors to its new gallery space (Unit 58, The Yard) in Alserkal Avenue from Sunday – Thursday, 10am – 7pm and Fridays: 9am – 12pm.