Arts & Entertainment
Trending
Museum of the Future to Host Trailblazing Future Tech Talks throughout Month of May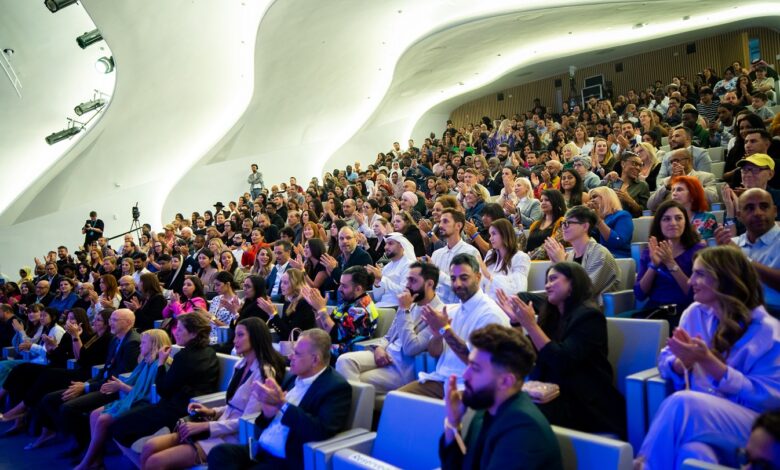 'Future Expert' sessions will include speakers Sandra Helou, Dr. Marwan Al Zarouni, Mrs. Sungjoo Kim, Dr. Yuhyun Park and Ross Lovegrove
The Museum of the Future, a hub for intellectual discussions, a playground for innovators, and a catalyst for change, is bringing together a diverse group of experts from around the world to discuss the latest trends and developments in technology, and how to create innovative solutions for a better tomorrow.
Taking place throughout the month of May, the series of captivating talks by industry leaders such as Sandra Helou, Dr. Marwan Al Zarouni, Mrs. Sungjoo Kim, Dr. Yuhyun Park, and Ross Lovegrove, where they will share their insights and experiences on the Metaverse, Web3, digital ESG, and the future of virtual assets. These experts will also share their insights, sparking inspiration among the attendees.
Please see below the list of events and workshops taking place at the Museum of the Future during the month of May:
FUTURE EXPERTS
With: Sandra Helou, Co-Founder & Chief Commercial Officer at Metapolis
Topic: How the Metaverse is unlocking a new era of business growth and innovation
When: 6May 2023
Sandra Helou has emerged as one of the most prominent figures in Web3 development, first in her role as head of Metaverse and NFTs at leading Blockchain company Zilliqa, and more recently as a maker of the Metaverse with her latest venture Metapolis. As Dubai presses ahead with its ambitious Metaverse Strategy, Sandra explores how this future tech is already transforming businesses and lives. Understand why the convergence of Web3, AI and Metaverse ushers in an exciting era of digital transformation and how you can get on-board the Metaverse train.
With: Dr. Marwan Al Zarouni, CEO of Dubai Blockchain Center (DBCC)
Topic: The Future of Ownership, Finance and Entertainment
When: 6 May 2023
Dr. Marwan Al Zarouni is an internationally recognised Blockchain technology advocate, keynote speaker and strategic advisor and will discuss how Blockchain, Web3 and AI will change how we think and treat ownership of physical and digital goods, as well as how we consume entertainment and finance – everything from IP to art and utility.
With: Mrs. Sungjoo Kim, Founder, Chairperson and Chief Visionary Officer of Sungjoo Group and MCM Holding AG and Dr. Yuhyun Park, Founder and Chief Executive Officer, DQ Institute
Topic: How Entrepreneurs Adapt to the Web 3, Metaverse & AI-led Future with the Digital ESG
When: 6May 2023
Web 3, Metaverse & AI-led digital transformation and ESG are two prominent and high-priority topics for any business around the world. This session will highlight how entrepreneurs must focus on not only applying latest technologies throughout their value chain to produce faster, smarter, and more profitable business outcomes, but also other values with an environmental, social, and governance ("ESG") related perspective in mind. These two goals should go hand-in-hand for a prosperous future. With the brand's core vision to become the leader of Metaverse-driven Smart & Sustainability Luxury ("MSSL"), Mrs. Sungjoo Kim, a prominent female entrepreneur and a brand owner of MCM, a German luxury brand with an extensive global footprint in 43 countries with 650+ stores, will talk about how she has transformed her business. Dr. Yuhyun Park, a founder of DQ Institute, will jointly talk about how the Digital ESG Framework could help high-performing entrepreneurs to co-create a smarter and more sustainable future for all.
With: Ross Lovegrove
Topic: Designing the Future: The Intersection of Nature and Technology
When: 14 May 2023
In a rapidly changing world, the future of design lies at the intersection of nature and technology. Visionary designer Ross Lovegrove will explore the possibilities of this exciting space, where biomimicry and parametric design meet to create products that are not only aesthetically beautiful but also functionally intelligent. From his work in Industrial Biomorphism to his experiments with cutting-edge materials and techniques, Lovegrove has dedicated his career to pushing the boundaries of design and challenging the status quo. In this thought-provoking lecture, he will share his insights on the importance of organic design and the role it can play in shaping the future.