Business
Trending
In Conversation with Nikita Kandath, GCC Women Empowerment Scholarship Winner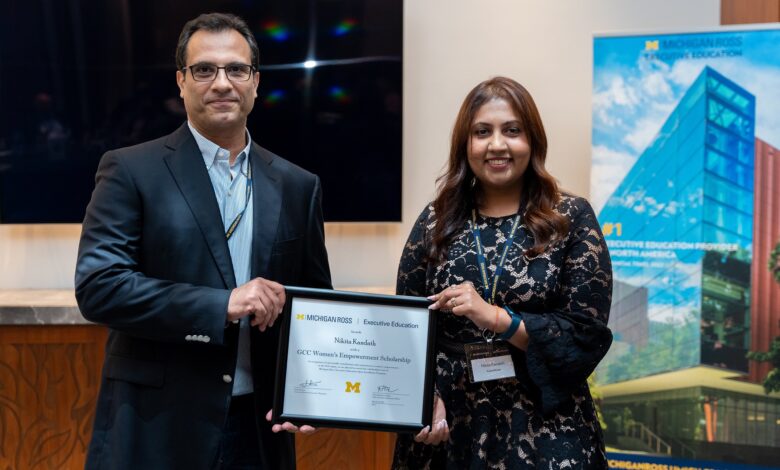 Nikita Kandath, GCC Women Empowerment Scholarship Winner, talks about challenges faced by women at workforce, about gender equality and a lot more in this exclusive interview
Any society's progress can be measured by the efforts made to empower women and to promoting their equal participation and access to opportunities in society. An environment where women can exercise their rights, make choices, and have control over their lives is definitely belongs to a progressed and civilised society by any measures. One such opportunity is 'GCC Women Empowerment Scholarship'.
Dubai Diaries got in touch with the scholarship winner, Nikita Kandath, Regional Marketing Manager, EMEA Emerging Markets, CommScope, for exclusive insight into what the scholarship is about, how it strengthens participation of women in the society and eventually contributes to building a safer environment that helps women progress in every walk of life.
Dubai Diaries: Nikita, why did you apply for the scholarship?
Nikita Kandath: I originally heard about the scholarships by Michigan Ross, from one of my colleagues in the industry. I began to think about furthering my education, to upskill my competencies within the diversity space, since I already have so much involvement and do so much work for women empowerment, not only with CommScope, but also in non-profit organizations. Applying to this scholarship is something which I believe will not only shape my leadership skills, but also support me in creating a space for women to grow, and provide the same opportunities that I received, specifically in the technology industry.
DD: What is your motivation and drive behind seeking executive education with Michigan Ross School of Business?
NK: I believe that Michigan Ross has a plethora of courses, with great, professors, who have extremely rich backgrounds and experiences. Furthermore, I believe that, taking a course in a niche program, would help me focus on a specific area which you wouldn't otherwise be able to enroll for while pursuing a higher education certification. Although I have already completed my masters' degree, I feel that doing a special enrollment program from Michigan Ross, will help me focus on my area of interest which is diversity and equity. From there on, I hope to be able to share my experience to my team at CommScope.
DD: What do you believe are the current challenges faced by women in the workforce?
Nikita: As a woman of color, I can speak from my experience. I have noticed that there is a glass ceiling, within the industry. If you have attended events within the region, although we have separate panels for women empowerment and women entrepreneurs, I have personally seen very few participants of c-suite level women alongside men of an equivalent background. Although there is a lot of discussion and talk about empowering women, there is a lack of the level of gender assimilation that is needed at this point. Even though we have started a conversation of giving opportunities to women, our next step should be to start pushing men and women to be represented equally together in various platforms. Going back to breaking the glass ceiling, a standardized pay structure must be normalized across the board for different levels of seniority based on experience and qualifications rather than gender, nationality, and background. Having a good mix of cultures, background and genders will bring forward fresh new ideas, perspectives and new ways of thinking that can push the business to greater heights.
DD: Have you seen any recent developments in gender equality in the workplace?
NK: Within the organization I operate in, I have seen many women step into leadership roles. For example, a recent announcement we received within the company, was that one of my female colleagues was appointed as the lead of pricing and finance. We were super excited to hear this! I do believe and feel that we are moving towards the right direction in bringing women to important leadership roles thereby demonstrating this active movement. Since, I am part of the diversity, inclusive network in my organization, we would make sure to promote her throughout the organization and encourage her to participate at events, to demonstrate a level of change in society.
DD:How can upskilling help progress people's career?
NK: To break the notion of the glass ceiling, women should change themselves by being bold and pushing themselves to be confident to move forward in their career. This can be done by up-skilling which can further help them in expanding their capabilities. Up-skilling unlocks new potential in a person and can help you steer away from career stagnation. To move forward, you need to keep up with the trends and update your current competencies and skill sets. Any form of executive education would allow you to find that confidence to potentially move to forward in your career and reach to the level of a leadership role.
DD: Can you share any words to inspire other women in pursuing their dreams?
NK: Absolutely. I would like to share a personal anecdote: Every time I received any sort of appreciation, praise, or accolade, I used to question myself if I deserve this? Am I worthy of this and ended up constantly engaging in self-doubt. I became privy to the concept of imposter syndrome.
Through my experience, I can openly say that that is not the right way to go forward, if you want to progress. You need to believe in yourself.
Therefore, I would say, as a woman who is just starting their career, you must start believing in yourself from the get-go and keep up-skilling to maintain your career progress. You need to market yourself while at your job to get noticed and you must be vocal about what you're doing. Whether it is within the company or outside, make sure to let people know all the work you're doing, including accomplishments, etc. to stay on top of mind with the management and be remembered, when a new opportunity arises. We can all admit, while working hard is imperative, it is very important to be bold and make sure your voice is heard.