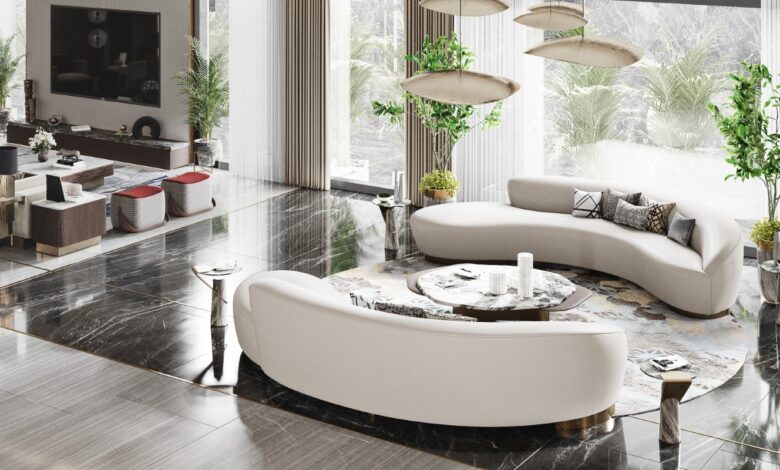 Boasting an extensive portfolio of incredible projects, iMaker, led by brothers Baraa and Ahmad Alrefai, is creating spaces that are truly unique and unseen before now with 20 projects across the UAE 
iMaker, a leading architecture, interior, and landscaping design company announce details of its first major projects in the UAE market. Known for their personalised approach, iMaker takes on every aspect of building a new home or revamping a current structure, from planning to execution. With a proven track record of designing and building breathtaking villas and apartments, the company is committed to continuously showcasing its expertise and innovative designs to the UAE.  
Having already established a strong presence in Saudi Arabia as the go-to company for creating architectural masterpieces, iMaker's expansion into the UAE market has been a very smooth transition and the obvious natural progression for the brand. With over 20 projects already under their belt in the UAE, along with an extensive repertoire of over 120 completed in Saudi Arabia, iMaker has really made its mark on the luxury real estate scene since it was founded in 2017.
iMaker has truly dove into the UAE market headfirst and their first major projects in the country showcase the company's commitment to excellence, design, and innovation. Each project iMaker is involved in is undertaken in a responsible creative approach and the quality of service and vision of modern luxury has resonated with each of their clients to date.
The firm's first few projects in the UAE, the Al Wahedi Villa in Khalifa city – Abu Dhabi is a stunning villa that features a spacious guest area, double-height family living space and sitting area, family dining area, state-of-the-art kitchen, services area with maids' room, 3 exquisite bedrooms, and much more, it is a true work of art. Also featuring custom-made Italian style furniture, the sensational villa is the pinnacle of class and the epitome of luxury.
Baraa Alrefai, Founder and Managing Director of iMaker, commented on the company's recent ventures, "Since we have set up our offices in Dubai, we have experienced a huge volume of interest in our work from prospective clients and it is a testament to the level of quality that the iMaker brand stands for. We are extremely proud of the projects we have already completed in the UAE, and we are looking forward to working with many more clients in the future to help make their dreams come true."
The Nadd El Shaba Palace in Dubai is another one of iMaker's groundbreaking projects. Set on a 2,200 sq. metre plot it boasts an impressive list of amenities including a fully equipped gym, swimming pool, cigar lounge, gaming room, 6 beautifully adorned bedrooms, 7 bathrooms, and more. Crafted in a contemporary Asian style, this design blends timelessness with functionality and modern elements, while seamlessly integrating traditional aesthetics and techniques.
iMaker has also worked on several other projects in the UAE, such as a modern style apartment in JBR's Address Beach Resort, a contemporary style apartment in Creek Harbour's Creek Harbour Tower, and The ACA Villa, which perfectly showcases the company's expertise in architecture, interior, and landscape design. Each of these spaces demonstrates the company's approach to design as they aim to create personalised projects that tell each client's unique story. The team at iMaker takes the time to get to know their clients and understand their vision, resulting in a home or interior that is tailored to their lifestyle and personality.
iMaker's portfolio of projects speaks for itself, and the company has received numerous accolades for their work including the Best Architect in the category of Best Luxury Architecture 2022 by the Luxury Lifestyle Awards. iMaker's success is due to their unwavering commitment to quality and their personalised approach to each project. With a team of highly skilled professionals and an unparalleled attention to detail, iMaker has become one of the most sought-after design and build companies in the region.
With their impressive portfolio and their commitment to excellence, it is clear that iMaker will continue to set the standard for architecture, design, and interiors in the region.