Business
Trending
Abu Dhabi Chamber Organises Round-table with Emirates Development Bank's CEO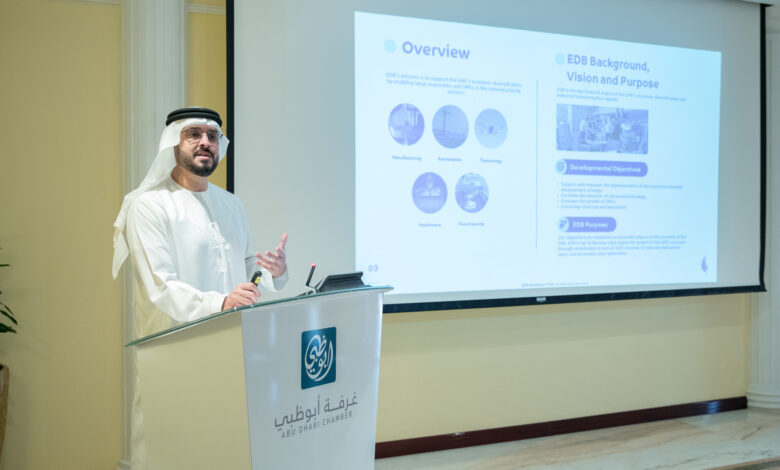 On this occasion, H.E. Mohamed Helal Al Mheiri, Director General of the Abu Dhabi Chamber, expressed the Chamber's keenness to organise such events
The Abu Dhabi Chamber of Commerce and Industry, in cooperation with the Emirates Development Bank (EDB), organised a Roundtable with Ahmed Mohamed Al Naqbi, Chief Executive Officer of EDB, to shed light on the Bank's offerings and its flexible financing solutions.
The event witnessed a wide participation of representatives from large, medium, and small businesses and startups operating across the Bank's priority sectors, who were introduced to EDB's financial services, products, and solutions.
Organising the CEO roundtable comes within the Chamber's efforts to enable businesses, especially startups to grow and expand their businesses, which comes in line with the government's approach of empowering SMEs and increasing their contribution to the national economy.
On this occasion, H.E. Mohamed Helal Al Mheiri, Director General of the Abu Dhabi Chamber, expressed the Chamber's keenness to organise events that aim at exchanging knowledge, sharing experiences, and spreading awareness on the available platforms that help businesses develop their operations. "As part of its newly launched strategy, the Abu Dhabi Chamber aims to help the private sector unleash its true potential within an advanced and competitive ecosystem, which is key for the development of the UAE's national economy," His Excellency said.
The Director General commended the role of the EDB in advancing the local economy by meeting with the representatives of the private sector in Abu Dhabi, emphasising that the Abu Dhabi Chamber is well aware of the importance of giving its member companies with the opportunity to network with the EDB. "I call upon SMEs and startups, especially those working in priority sectors to benefit from the financing solutions and offerings of the EDB." He added.
Ahmed Mohamed Al Naqbi, Chief Executive Officer of EDB said: "As the United Arab Emirates' development bank, EDB is pleased to have hosted a roundtable with the Abu Dhabi Chamber of Commerce and Industry. SMEs and startups play a key role in the diversification of the economy and help shape the UAE as the financial hub in the region. Through events such as this roundtable, we ensure that our flexible and tailored financial solutions effectively reach SMEs and startups in the UAE. We will continue to host events with our key stakeholders, to provide the necessary platform to identify future opportunities and partnerships that contribute to achieving a healthy and sustainable economy."
The roundtable provided the attendees with the opportunity to connect with the Bank to discuss the financing terms and conditions and all the privileges and facilities that EDB offers for businesses desirous of doing business with the bank.