Sports
Trending
UAE Team ADQ Announces UAE Women's Continental Team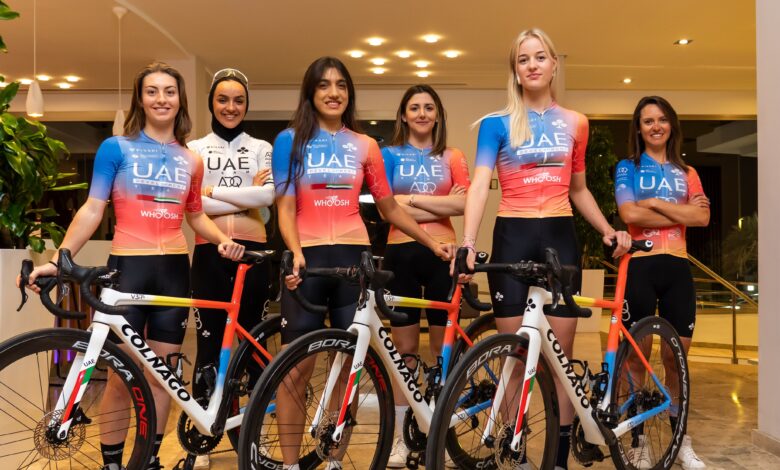 UAE Women Continental Team will focus on the capacity-building of Emirati female cycling talent in the UAE
UAE Team ADQ announced today the establishment of the UAE first Women's Continental Team in collaboration with the UAE Cycling Federation. The new team will be participating in some of the most important races on the international women's cycling calendar, along with UAE Team ADQ.
Upon its establishment, the new team will focus on the capacity-building of Emirati female cycling talent in the UAE. UAE Team ADQ registered this new team as a UCI continental team under the official name of the UAE Development Team.
H.E. Mansoor Juma Buosaiba, President of the UAE Cycling Federation said: "We are incredibly proud to witness the formation of the first UAE women's continental team. It is an important moment in the sport's development in the UAE and a unique opportunity to support the growth of our great sport across the nation. The UAE women's continental team will look to develop the next generation of Emirati women's talent and support them to reach their full potential."
Melissa Moncada, Head of UAE Team ADQ said: "The establishment of the first national women continental team is a core mandate and a key component of UAE Team ADQ's Social Impact Program. It illustrates our commitment to generate high-quality cycling opportunities for talented female Emirati riders and UAE-based talents,"
"With this new team and in alignment with our core values, we will open unique and professional pathways for Emirati talents who aspire to have a professional cycling career. We will work at the grass-root level to identify, develop, and nurture talents and create future world leaders in women's cycling. We are excited and proud of this new key milestone in our journey, added Moncada.
As part of the UAE Continental Team, UAE Team ADQ will offer mentorship and performance-based professional support through its Emirati Talent Development Program, starting with two aspiring riders. Support services provided to them also include top individual performance coaching, supervised training, mental coaching, racing programs, and the opportunity to learn from the experiences of the teams competing in World Tour events.
"We are confident that this approach will lower entry barriers and encourage more Emirati women to ride bikes at all levels, adopt a growth mindset, and join the women's cycling movement that we are leading in UAE." concluded Moncada.
The first-ever UAE women's continental team is a new asset to the cycling portfolio of the nation. It reinforces the UAE's position as a key stakeholder in women cycling development, accelerating the uptake of the sport among women of all ages.
The UAE Continental Team is made possible by the strengthened commitment and contribution of the UAE Federation, as well as UAE Team ADQ's partners Colnago and My whoosh to support young talents.