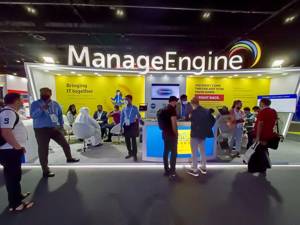 Sujoy Banerjee, Associate Director, Sales and Business Development for UAE, ManageEngine, talks about GISEC participation, what's in-store for the consumers, and cloud security
Gulf information Security Expo and Conference (GISEC) 2022 became the platform that provided opportunities to the tech world to showcase, launch, spread the awareness and business across GCC. ManageEngine, the enterprise IT management division of Zoho Corporation, showcased its full range of IT security solutions, including the recently launched cloud access security broker (CASB) component of its SIEM solution, Log360, and discuss how the rapid growth of cloud infrastructure services is driving increased interest in securing data, applications and workloads in cloud computing environments.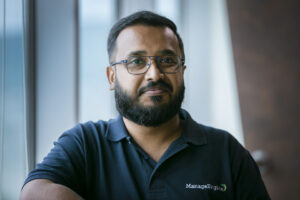 Sujoy Banerjee conveys company's message at GISEC 2022: "GISEC gives us an opportunity to promote our best in class IT security product portfolio. It is also the product platform to engage with key decision makers, understand their challenges, educate them on latest technologies to mitigate risks as effectively as possible".
Dubai Diaries: Where do UAE's tech consumers stand when it comes to cloud and security?
Sujoy Banerjee: For more than a year now, the region has seen several developments in the areas of cloud computing, data privacy, and cybersecurity, and this is expected to continue. Organisations across all verticals are on a digital transformation journey, and cloud-based infrastructure is a key pillar to this ecosystem, leading to several new technology suppliers entering the market to fulfil the growing demand. For example, leading regional banks are moving their critical services and sensitive data to the cloud.
Rapid digitalisation has led to cybersecurity and data privacy becoming the top priorities for organisations. For instance, the Telecommunications and Digital Government Regulatory Authority developed the UAE Information Assurance Regulation to provide the required management and security controls for organisations to raise the minimum level of protection of information assets and supporting systems across all entities in the UAE. Another great example would be the recently introduced FedNet, which provides convenient, on-demand network access to a shared pool of configurable computing resources for all federal government entities.
DD: What solutions do ManageEngine bring for its users/consumers?
SB: Initially, our offerings focused on IT service and operations management, with a few solutions for device security. Device security was mainly about scanning devices for vulnerabilities, making sure systems were up-to-date on patches, keeping antivirus signature databases current, and enforcing policies on devices.
Over time, technology transformed and the emphasis shifted towards tracking data and ensuring it gets adequate protection. This has brought fundamental changes to enterprise IT architecture overall, with security teams implementing measures like the principle of least privilege, the continuous adaptive risk and trust assessment approach, and Zero Trust while leveraging cutting-edge technologies like AI and machine learning (ML) to enhance information security.
ManageEngine today offers an end-to-end suite of products for complete enterprise IT management, allowing IT teams to effectively and efficiently combine IT operations with IT security. This is a gap that the pure-play security solutions cannot bridge easily, whereas we are in a position to contextually integrate service management, operations management, endpoint management, and IT analytics, which keeps security in the right place from the time of building the solution architecture. Within our IT security portfolio, we cover great depth with SIEM and log management with UEBA capabilities, proactive threat analytics using AI and ML, privileged access management, complete endpoint security, data leak prevention, and more for today's complex, heterogeneous, and hybrid IT infrastructure.
DD: What is SIEM Solutions Log 360? How can it help secure data on clouds?
ManageEngine Log360 is a unified SIEM solution with integrated cloud access security broker (CASB) and DLP capabilities that helps security analysts investigate, detect, and respond to threats.
SB: In a single console, security analysts can get complete visibility into activities happening in their hybrid network infrastructure. This includes activities in Azure Active Directory, Microsoft Azure, AWS, Salesforce, and Google Cloud Platform. Log360 also provides visibility into the exfiltration of corporate data into the cloud, and the use of unsanctioned applications, by leveraging a CASB. Real-time notifications via email or SMS can be configured so analysts know about any cloud-based threat. Log360 also delivers anomaly detection by leveraging ML, which keeps cloud environments more secure.